Introduction
Serjeants' Inn is a set of 60 barristers specialising predominantly in medical law, police law, professional discipline, employment and public & administrative law. Angus Moon QC and John Beggs QC are the joint Heads of Chambers.
We are consistently recognised as leaders in our practice areas by the legal directories and have been instructed in many of the leading reported cases in each of our fields of practice. Six members of Chambers have taken silk in the 2015/16 competitions and we have won a number of awards over the last two years.
In a recent survey we asked our barristers and staff for the five words they would use to describe Chambers, with results as follows: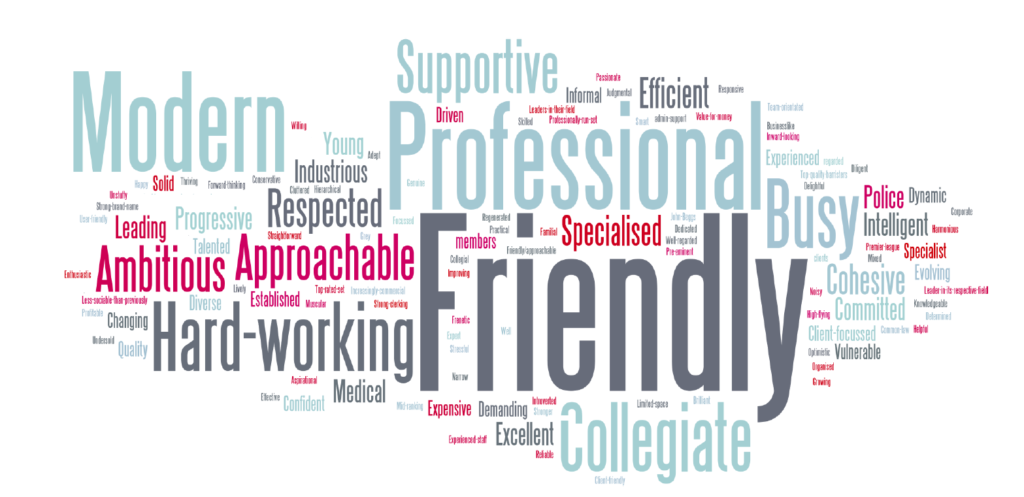 Equal Opportunities
We recruit purely on merit in accordance with our equality and diversity policy, encourage applications from all sections of the community and are happy to make reasonable adjustments as necessary for those with disabilities.
Diversity Data
To see a summary of the diversity questionnaires completed by barristers and staff at Serjeants' Inn in December 2015 please click here.
Further details
Please click here for more details about our approach to Equality & Diversity. Please see the links on the left for more details of our recruitment processes.